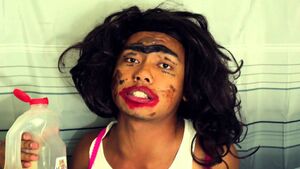 Rolanda is the sexiest fictional character in Wassabi Productions because she has a degree of being sexy, unfortunately Alex hypnotizes people to tell her that her face is not symmetrical.  Her full name is Rolanda Wassabi
Appearance 
Edit
Rolanda is always wearing a white tank top, pink bra. and a short pink rippled skirt. She has a huge bushy unibrow and a gigantic mole
mole. She also has messy hair. She wears the same thing all the time. Even though she seems rich she is very poor and lives in a huge mansion AcopanEd by her 8 maids.
Personality
Edit
Rolanda is an obnoxious character and overconfident about her sexiness even though she only has one degree and she always maintain a non symmetrical face when showing up to Alex. Her craziest personality is her desire to show off her armpits. That's why people like Aaron and Alex say she is hot and cute.But can't edmit her sexieness.😍 🐤🐤🐤🐤🐤
"Eww! Get away from me!"
"But I love you!"
"Alex,I Love you Roland's
"But Alex"
"I'M SO SEXY!"
"Richard, I'm sorry I left you for that jerk! Will you ever forgive me!"
"You're a jerk!"
"IM COMING BABY'
RICHARD!, WHY DID YOU LOSE THE KEY?"
W
hat did you just say to Me!
"Do want to be my husband? Alex COME BACK!!!!"